Xh2420 Heavy Duty metal CNC Gantry Machining Milling Machine Center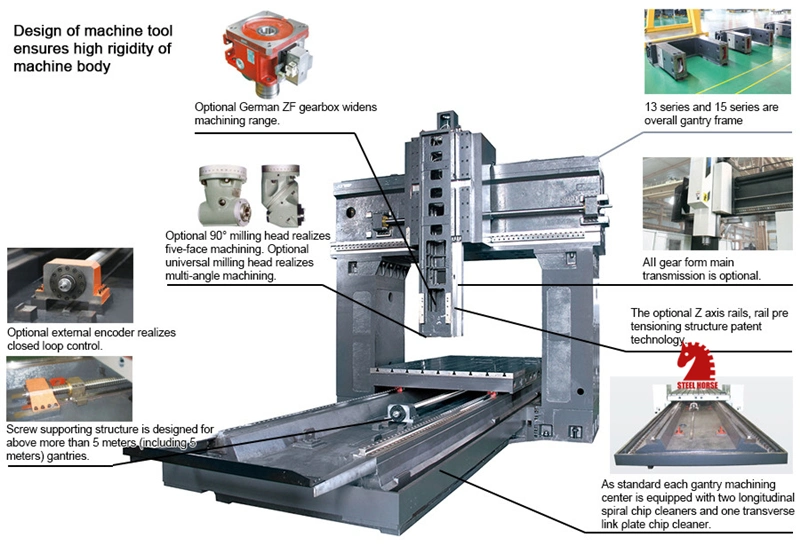 The main performance characteristics:
Features:
Extremely rigid and stable structure, the oversized column combined with box type beam construction features additional machine rigidity.

The slant beam construction with increased slide way surfaces efficiently upgrades force distribution area this results in greater stability.

The spindle head is located at the center of beam, providing high movement accuracy, superior heavy cutting capability and outstanding rigidity.

The position is specially designed with symmetrical to center.

4.Equipped with spindle motor ball screw and double counter-balance cylinders are all properly located at the best positions to avoid unequal torque, while assuring the best structural accuracy.

The double counter - balancing cylinders on Z-axis are suspension supported, close to the movement gravity center, symmetrical to the spindle drive ball screw and the center of spindle motor. Optional position design not only fully eliminates the possibility of unequal torque, but also provides high feeding accuracy and machining accuracy.

Linear ways on X/Y-axis combined with box ways on Z axis.
Deital:
·
bed, columns and travel tracks form a solid frame structure for high rigidity under hard machining conditions and high table loads
·
triple linear guides support the table across its entire travel distance in the X axis and allow high table loads
·
all axes feature preloaded ball screws, preloaded spindle nuts and powerful drive motors
·
quadruple linear guides of headstock on Z axis ensure maximum rigidity even with extra-long lay-outs
·
the included hydraulic spindle gears allow a wide speed range and high torque
·
including weight balancing system for easy movement and precise Z axis positioning
·
the main spindle features an oil cooler to ensure constantly balanced temperatures
·
quick tool changes via a tool-changer with dual-arm gripper
·
Fanuc 0i MD control with Manual Guide for easy programming and maximum reliability
·
chip conveyors on both sides of the table with a capacity of 55 kg/min ensure quick chip removal from workspace; including chain-type chip conveyor
·
productivity and flexibility can be increased even further by using any of the optional accessories: NC - Rotary Table, 90° Angle Cutter (more accessessories upon request)
·
automatic central lubrication system
Product main technical Specifications:
Specification

Unit

XH2418

XH2420

XH2425

Table travel X

mm

2600/3100/4100

3200/4200/6200

4200/6200/8200

Table travel Y

mm

2400

2650

3400

Table travel Z

mm

1000

1000

1200

Table size

mm

2500/3000/4000*1800




(3200*1800)

3000/4000/6000*2000

4000/6000/8000*2500

Distance between columns

mm

2200

2500

3200

Max table load

Kg

9000/12000

10000/15000/20000

22000/30000/38000

T-slot (N/W/D)

9/28/180

9/28/200

11/28/200

Feeding speed XYZ

mm/min

1-8000

Rapid feed speed XYZ

m/min

12/12/10

Distance between spindle and table surface

mm

250-1250

Spindle taper

/

BT50

Power of spindle motor

Kw

22

Spindle speed range

rpm

6000

Positioning accuracy

mm

±0.005/300

Repeatability

mm

±0.003/1000

Overall size

mm

7000/8000/11000*4800*3800

8000/10000/14000*5100*4800

10000/14000/18000*5900*5000

Net weight

t

27/33/40

38/42/52

55/85/105