TPP103/TPPR103 (Enhanced model) CNC Punching Marking Machine For Plates
Applicable industry
:
Used for punch, drill and mark of joint plate in the field of iron tower, steel structure, bridge. It is also used to punch, drill and mark of metal plate of other trade.
Product feature:
1.
The machine-frame is made by C-type plate welding, with good rigidity and big handling space. The machine sets three die-stations (among them, one is the marking die-station), automatic switching die-stations. Clamping system can adapt to different work
-
piece, with zero baffle as datum mark, and work
-
piece supported by rolling-ball working table. Axis X & Y action should be controlled by servo motor and ball-screw driving, and double-axis CNC system controls the position of punching, so as to make the whole machining process automatically; operator may input the sizes of work
-
piece to computer for repeated calling program in the future.
2.
Adopt CNC technology, servo motor infeeding, with high efficiency, stable work
-
piece precision.
3.
Important functional components adopt modular assembly, easy to repair it.
4.
Carry out punching, marking and drilling on the one plate.
5.
Drilling unit has the functions including rapid falling, slow work-feeding and quick feeding back to improve working efficiency.
6.
Easy programming, may input the diameter
and
position
of holes to computer, and also may use the program generated by lofting software, or adopt direct conversion CAD/CAM.
7.
The hydraulic station adopts double pump, single motor, water cooling system, sleeve type coupling for all pipelines. The glue of hose and coupling are exported.
8.
The X & Y axis are driven by servo motor, ball screw and linear guide, which ensure the high precision.
9
.
With self-diagnosis failures function.
10
.
Lighten the working strength of workers.
11. POWER: Three phase four wire systems
AC Voltage: 380V
Fluctuation of voltage: ±5%
Frequency: 50Hz
Local working temperature: 0-40
ºC
Special advantages:
Hydraulic station adopts dual-pump and single motor.
Punching speed is faster than other company's, so it is more efficient and improve the workshop ability.
It adopts
sleeve-type coupling for all pipelines, which avoid leakage.
The glue of hose and coupling are exported from Germany.
Product Basic Parameter
:
Model

TPPD103

TPPRD103

Max size of work piece L×W(mm)

1500×800

Max. punching diameter (mm)

Φ26

Plate punching thickNess (mm)

5

~

25(Q235)

5

~

25(Q345)




5

~

20(Q420)

Max. drilling diameter (mm)

Φ50

Max. drilling thickNess (mm)

40

Punching force (kN)

1000

1200

Marking force (kN)

800

1000

Min. distance between hole and plate edge (mm)

Punching

25

Drilling

Depends on hole diameter

Character dimension (mm)

14×10×19

Qty. of character

12

16

Die-stations

4

Feeding speed of drilling(mm/min)

25

~

280

Stroke of drilling spindle(mm)

180

Rotation speed of drilling spindle(r/min)

120

~

560

Programming mode

Auto CAD or lofting software

Overall dimensions L×W×H (mm)

3200×3000×2600

3300×3200×2600

Machine weight (Kg)

5800

7000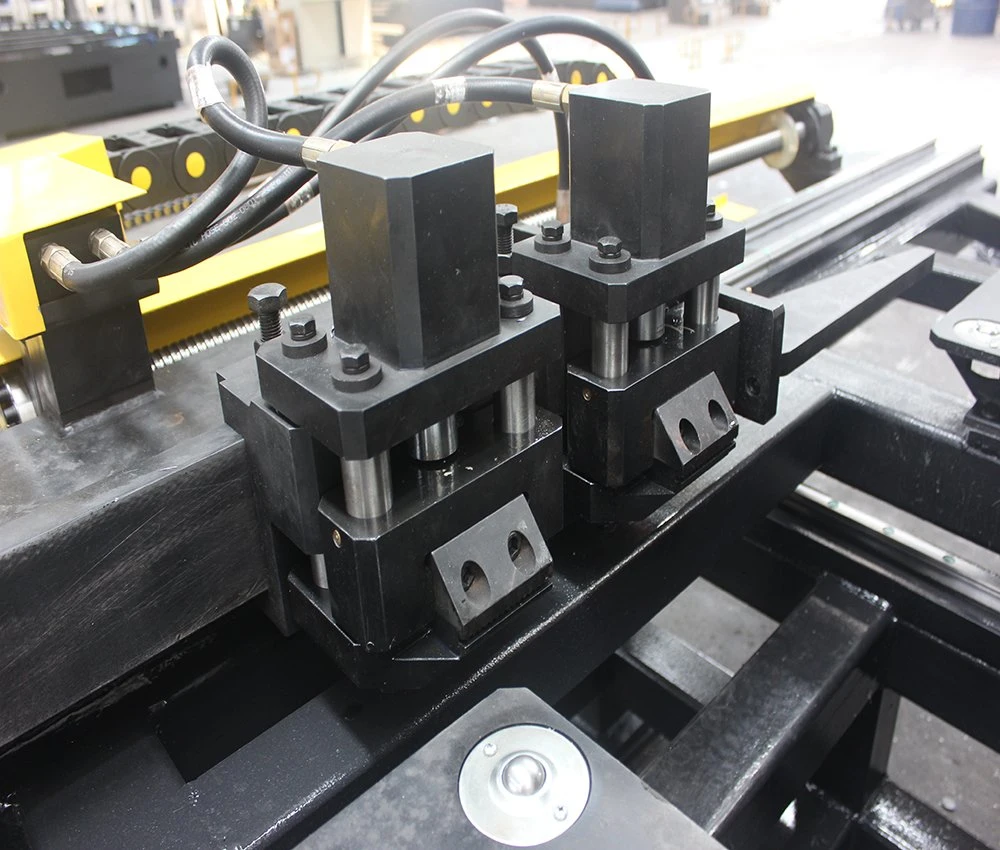 Our Company
Factory:
With the development of SUNRISE, now our company has occupied important position in this industry. Due to the orders and sales performance is continuously improving, in order to better development, to meet customer's demand, and to provide customers high-quality equipment with the shortest time, our company have bought the new site,
the area about 50,000 square meters
,
this will make sufficient preparation for development of our company and every customer.
Workshop:
Quality make brand, honesty win market, harmony converge talents, and innovation promote development. Our ability to consistently provide innovative, high quality products that outlast and outperform the competition, is why we are the one of the most successful companies offering the most advanced and productive solutions in the CNC machine industry.
Warehouse:
Manufacturing customer oriented products has always been our supreme concern. We believe that quality is the soul of an enterprise forever. Therefore, we never compromised with the quality of our products. We adopt advanced, scientific modern management ideas and system to realize supervisory control among all aspects of produce, inspection, sale and service etc., which help control quality, increase work efficiency and guarantee products' stability, reliability and precision. Therefore, the enterprise can achieve rapid and sustainable development.
Team:
We are a team of experienced and dynamic professionals who are experts in handling precision work through scientific processes. The professional excellent talents unite a powerful and creative team of design, research and development, which build our solid technical strength and competitiveness. And our company is developing fast and supply specialized service to all customers.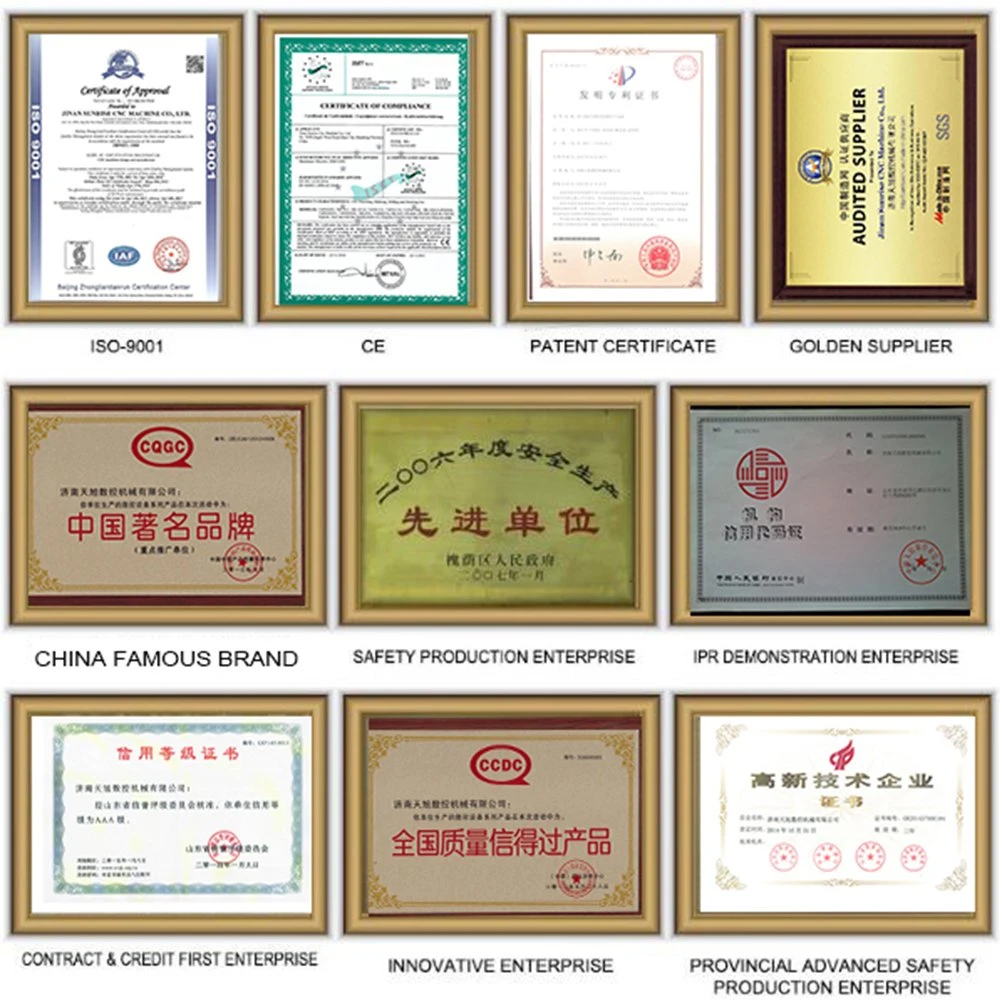 Our Service
Installation:
The seller shall send one engineer to the buyer's country for installation, commissioning and training. The buyer is responsible to provide all necessary equipments for handling and lifting the machine parts before seller's engineers go to the buyer's plant. In addition, the buyer should provide workers to support in installation activities, under supervision from the seller's engineers.
Commission:
The Supplier should give drawings and other details of material/preparation required for installation of machinery which the buyer has to prepare and keep ready before the machine arrives at the buyer's factory. Installation and commissioning can be finished within 5-10 days for above machine generally.
Training:
Training will include training on computer programming, machine operation and troubleshooting. The training time is at most 5 days for this machine.
The buyer should arrange no less than two people for accepting training. After training, the buyer should sign the "Receiving & Inspection Report" supplied by the seller to demonstrate the successful finish of commissioning and acceptance of the buyer.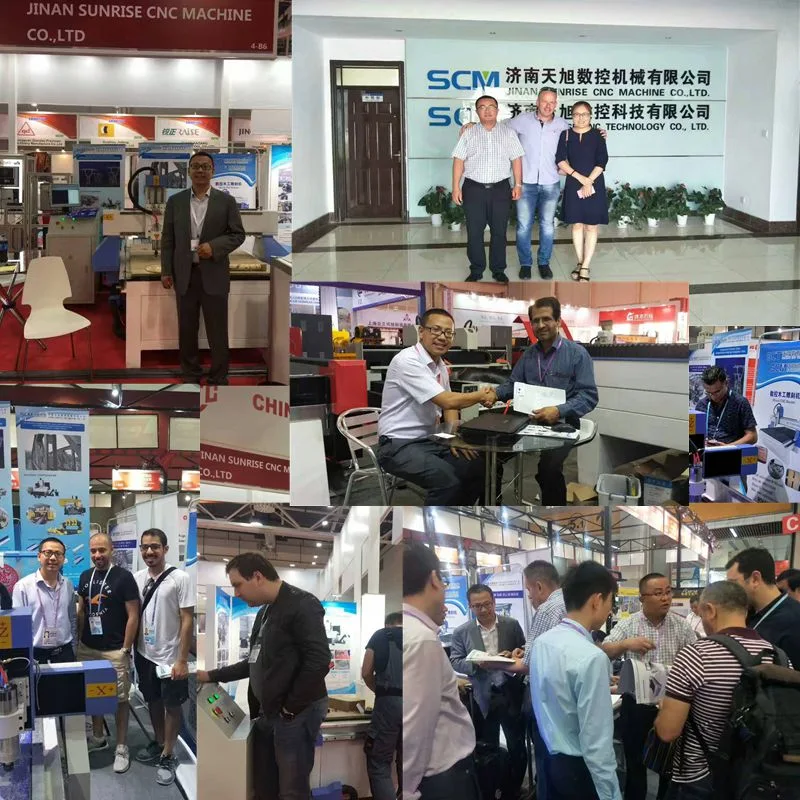 Packing & Delivery
Packing Details : Packing, this model need 1*20GP;
Delivery Details : 30-50 days after get the first payment.
1. Special logistics packaging
2. Suitable carton size
3. Fasten
4. Professional placement
5. Professional shock
6. Complete package