Features:
1. Basic parts made of cast iron in high quality & high strength, high pressure molding for large parts enables machine in good rigidity,good a
seismic
it
y
& good precision retaining ability.
2. Gantry type frame structure,mobile table,compact structure of whole machine,scientific layout,elegant appearance.
3. Heavy duty linear rolling guideway in axis X/Y with advan
c
e of big load,high precision. Hard guideway in Z,self-poise system of
symmetrical
double oil cylinder in spindle box ensures rigidity & precision of feeding in Z.
4. Famous high speed spindle unit,speed change mechanism of it fits strong cutting at low speed.
5. Widely used in fine machining in industries like molding industry,automobile industry,aerospace industry,engine industry,packing industry,textile industry and so on. Fit for machining requirements on procedures such as milling,boring,drilling,tapping,etc.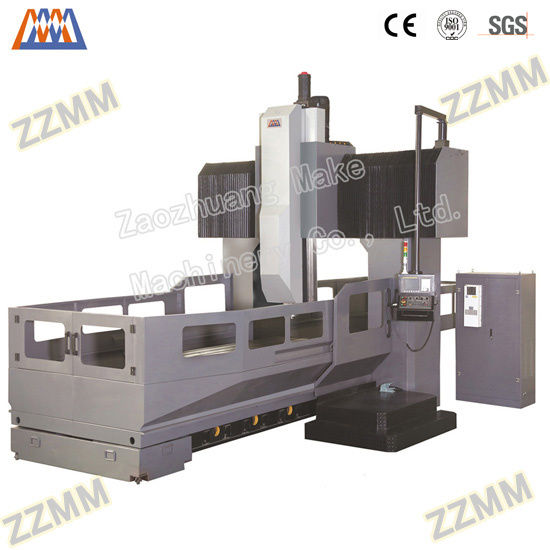 Specifications

VMC2216

VMC3216

VMC3220

VMC4220

Travel

X×Y×Z(mm)

2200×1600×710

3200×1600×710

3200×2000×1060

4200×2000×1060

Distance

Spindle nose to table surface(mm)

200-910

200-910

200-1260

200-1260

Spindle center to column(mm)

432

432

432

432

Between columns(mm)

1630

1630

2000

2000

Table

Size(L×W mm)

2000×1250

3000×1250

3000×1600

4000×1600

T-slot size(W. ×Q.×D. mm)

22×7×180

22×7×180

22×9×180

22×9×180

Max. load(kg)

5000

6000

7000

8000

Spindle

Taper

BT50

BT50

BT50

BT50

Speed (rpm)

50-6000(Standard)




50-3000(Heavy)

50-6000(Standard)




50-3000(Heavy)

50-6000(Standard)




50-3000(Heavy)

50-6000(Standard)




50-3000(Heavy)

Power (kw)

15/18

15/18

15/18

15/18

Feed

Fast moving speed of X/Y (m/min)

15

15

15

15

Fast moving speed of Z (m/min)

10

10

10

10

Cutting feed speed (mm/min)

1-4000

1-4000

1-4000

1-4000

Precision

Position accuracy (mm)

X:0.032




Y:0.028




Z:0.023

X:0.032




Y:0.028




Z:0.023

X:0.032




Y:0.028




Z:0.023

X:0.032




Y:0.028




Z:0.023

Reciprocating position accuracy (mm)

X:0.016




Y:0.014




Z:0.011

X:0.016




Y:0.014




Z:0.011

X:0.016




Y:0.014




Z:0.011

X:0.016




Y:0.014




Z:0.011

Others

Pressure (MPa)

0.65

0.65

0.65

0.65

Power capacity (KVA)

50

50

60

60

Dimensions(L×W×H m)

5.6×3.5×3.8

6.6×3.5×3.8

9.5×3.9×4.2

10

.5×3.9×4.2