1. FEATURES
This machine may be used for surface cutting,drilling,milling,and tapping.

This machine is of fine quality,can be operated easily, it is not limited
to skilled operator.
The drilling and milling operation can be performed by two methods:
Hand operation,which makes quick feed drilling.

Worm gear feed operation,which makes slow feed milling.
Many of the adjustable nuts are bronze,for adjusting thread clearance and reducing wear.these bronze parts also allow screws to rotate smoothly and improve accuracy.

The vertical column is very strong and stiff,which makes the machine very stable and improves accuracy of manufactured parts.

The machine head is cast iron, it has been heat-treated,stress-relieved,
And precision machined.
Machine gears are precision ground for smooth operation.

Speeds can be easily changed.

Tapping can be done in either rotation,working depth can be controlled by using a positive stop gauge.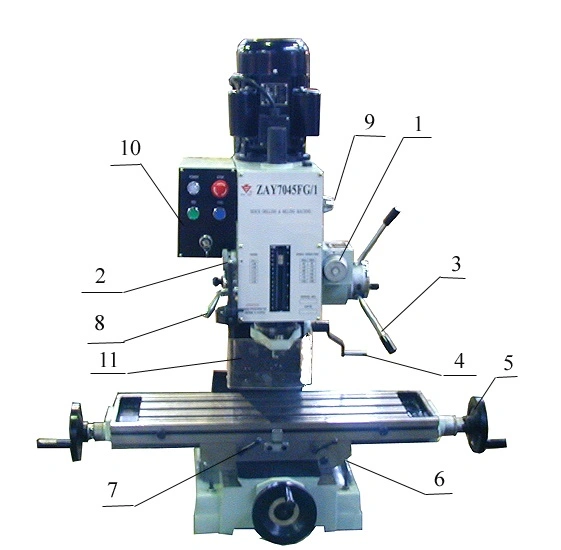 micro-feeding knob 2.

Auto-feeding knob

3.feeding handle 4.crank 5.handwheel 6.cross lock screw 7.

Longitudinal lock screw 8.lock handle 9.shift handle 10.switch 11.Guard
Specification
Model

ZAY7032FG/1

ZAY7040FG/1

ZAY7045FG/1

Max.drilling capacity

E32mm

E40mm

E45mm

Max.face mill capacity

E63mm

E80mm

Max.end mill capacity

E28mm

E32mm

Max.tapping capacity

M12

Max.spindle stroke

130mm

Headstock axial stroke

400mm

Swivel angle of headstock at perpendicular direction

±90°

Max.distance between spindle nose to table

450mm

Spindle taper

M.T.3 OR R8

M.T.4 OR R8

Distance between spindle to slide

286mm

Working area of table

800mm×240mm

Forward and backward travel of table

175mm

Left and right travel of table

500mm

Spindle speeds (4P)

50HZ 80,145,260,375,710,1250 RPM

60HZ 95,175,310,450,850,1500 RPM

Feed steps

6

Feed range(mm/r)

0.06, 0.09, 0.12, 0.15, 0.18, 0.30

Motor

0.75KW (1HP)

1.5KW (2HP)

1.5KW (2HP)

Length

820mm

Width

1160mm

Overall height (without stand)

1060mm

Net weight/gross weight

320kg/370kg

323kg/373kg

325kg/375kg
Standrad accessories:Allen wrench, Wedge-Wrenches, Drill chuck arbor, screw, draw bar and washers

Optional accessories:
1.Machine stand
2.Power feed
3.90mm paraller vise
4.120mm paraller vise
5.Drill chuck
6.milling cuttter holder
7.Changing sleeve
8.Mill chuck
9.Auto-tapping electrical
10.Boring bar
11.Working lamp
12.Coolant system
13.DRO/XY

3.Machine photos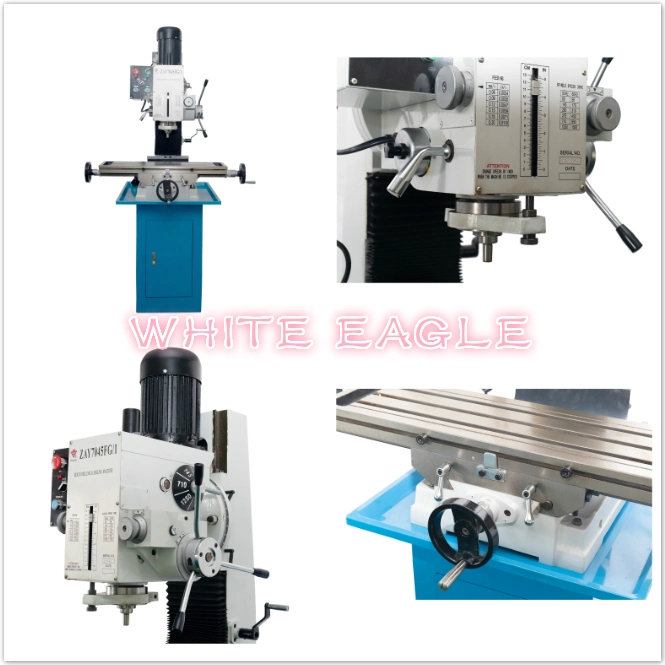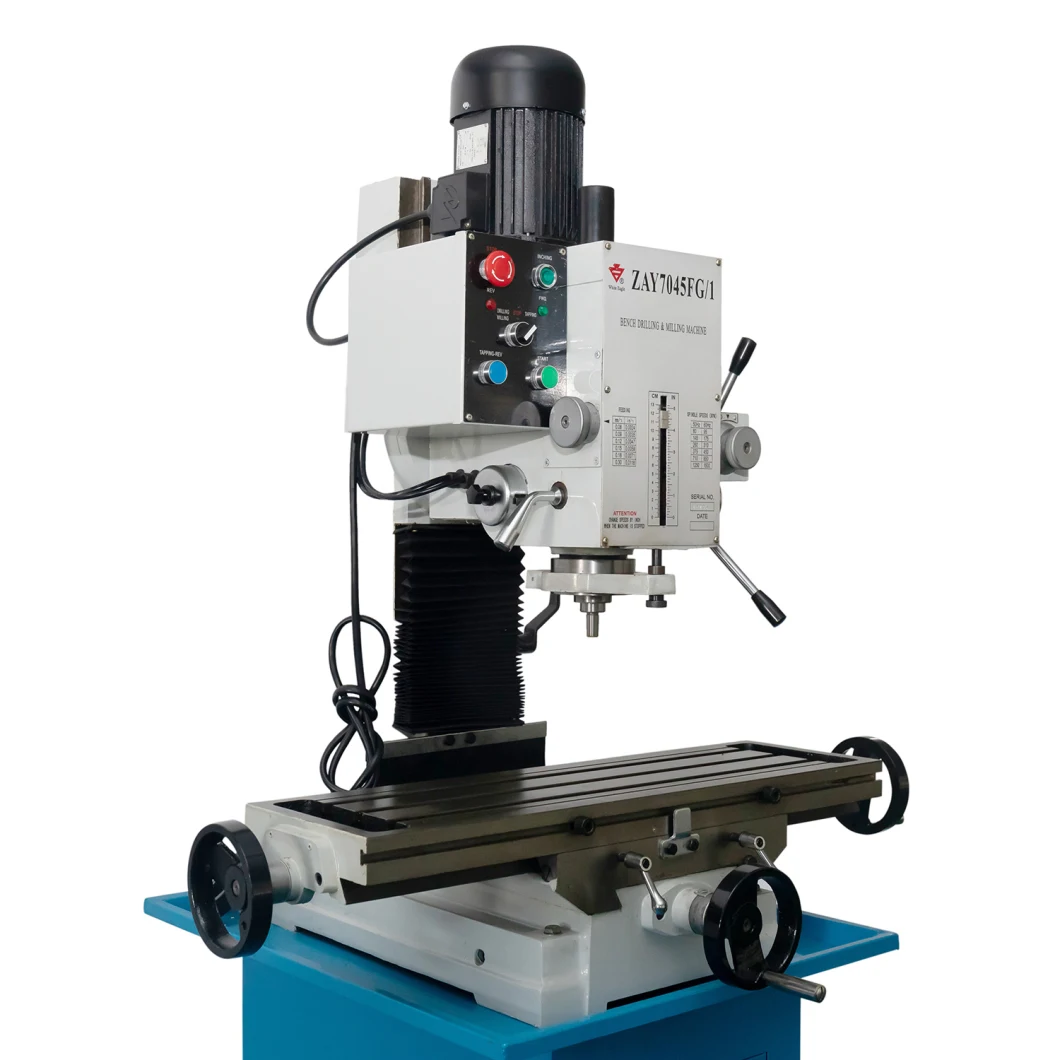 4.Manufacturing Capability