Machinery Bender/CNC Bending Machine / Auto CNC Bending Sheet / Steel Press Brake Machine/Plate Bender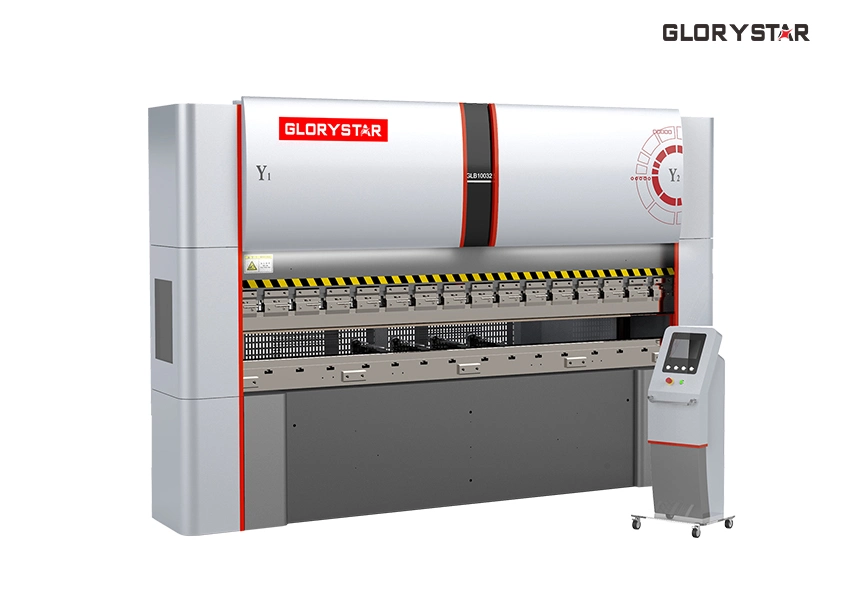 The GLB400KN ~ 2000KN CNC bending machine produced by Dongguan Glorystar Laser Technology Co., Ltd. is a high-precision and high-efficiency sheet bending processing equipment with advanced and reasonable structure design, superior technical parameters and performance, and adopts world-class Numerical control bending system, hydraulic power system engineering and precision screw guide rails and other supporting products, the quality of the processed parts is excellent, the overall performance is reliable, it has a complete selection system of standard mold types, and is equipped with complete bending special functions and automatic programming software. And has perfect automatic detection protection and self-diagnosis functions.
GLB series CNC bending machine is a machine that adopts CNC system control, proportional servo valve and proportional directional valve as hydraulic system for flow control. The main pressure and deflection compensation are automatically calculated and automatically adjusted. According to the requirements of plate processing, through programming, parts of different sizes, shapes, and curve contours of any shape can be automatically processed, and certain special plate processing techniques can also be completed.



1.The ball screw and linear guide adopt Taiwan HIWIN precision large diameter, large lead screw and guide rail, which can meet the machining accuracy requirements of the machine tool without compensation in the full stroke;

2.Italian ESA system professional powerful CNC system, friendly man-machine interface. Powerful functions, stable performance, easy operation, energy saving and environmental protection, can achieve higher production efficiency;

3.Proportional hydraulic compensation system ro prevent deformation;

4.Using German BoschRexroth professional hydraulic components, stable and reliable, longer life;

5.Adopting the internationally advanced German Ph.D. electro-hydraulic proportional synchronous control system, two electronic grating rulers installed at the left and right ends of the slider, CNC system, and proportional valve form a closed-loop servo control system to accurately control the speed and position of the slider.

6. High performance AC Japanese Yaskawa AC servo motors and drives.

7.Rich functions CYBELEC/DELEM professional control system.

8.Electro-hydraulic servo synchronization module and pressure module.
9.Applicable Industry
Elevator industry, stainless steel industry, copper, aluminum, decoration industry etc.
10.Applicable Materials
Stainless steel plate, iron plate, copper plate, aluminum plate and so on.
11.Optional Accessorise
a. Premium Backgauge-R, Z1-Z2,X Axe as Options Supreme Backgauge 6 axes X1/X2, R1/R2, Z1/Z2
b. Light Curtains or Laser Safe .
c. Laser Check bend angle measuring device.
d. Robotic Bending.


Experienced many years of innovation and development, Dongguan GloryStar Laser Technology Co., Ltd. has become a well known laser machine manufacturer and high-tech enterprise offering solutions on laser technology application and capacity optimization in various industries. Our annual output reaches to over 3,500 sets and the sales networks spread over more than 100 countries and regions around the world.
As a leading enterprise of laser equipment, GloryStar is equipped with an integrative research system. We group our GloryStar laser R&D center with German laser experts and keep good relationships with many domestic famous universities and optical scientific research institutions for technical exchange and cooperation. Our products, covering laser engraving, laser cutting, laser marking and laser welding machines (total 100 more types), are widely used in various industries including fabric, garment, toys, industrial textile, advertisement, leather, footwear, craft gift, electronic product, printing, packing, inner car decoration, carpet, furniture, metal processing, etc.
Our products have obtained European Union CE certificate and Switzerland SGS certificate. We strictly perform ISO9001:2008 quality control system and ISO14001 environmental management system in incoming material, in-process, final inspection and shipment processes to ensure the high performance and quality of each product.
Bearing the high Germany technology and opening the view of Europe to the entire world, GloryStar will always keep the advanced step and conception to share the scientific future with our customers!