High Speed 3D CNC Drilling Machine
Model: TSDH-400/3; TSDH-700/3; TSDH-1000/3; TSDH-1250/3
Product Description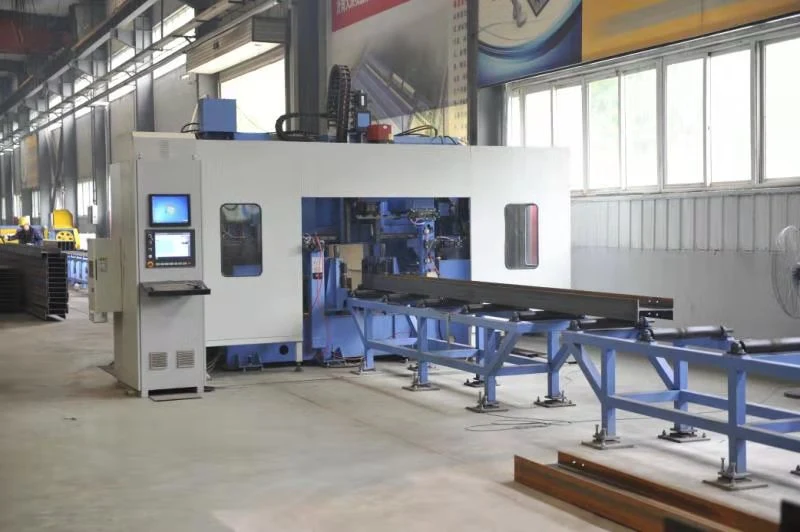 The maximum rotating speed of the spindle is 3000rpm, which is 4-5 times of the common drilling machine.
Adopting high speed, high power mechanical spindle, and the processing capacity is 2-3 times of a common drilling machine. It is fearless of processing large and thick materials. Highly effective and manpower saving.
Features & Advantages
The main drilling machine body uses three high-speed spindles to drill three sides of the steel profile respectively. Each drilling spindle's row type tool magazine can accommodate up to four types of tools, which can automatically drill four different sizes of holes in one time's clamping material.

The spindle feeding is driven by servo motor, which can realize fast forward, work feeding and fast retreat through program control. The spindle motor is driven by spindle servo motor, the speed is steplessly adjusted, and the speed adjustment range is wide.

There are three headstocks installed, namely the fixed side, the movable side and the upper unit headstock, which drill holes horizontally and vertically. Each headstock can be operated separately or at same time.

The three headstock units are hung on the bed side, and each headstock unit is driven by two sets of servo motors to realize the horizontal and vertical movement of the head stock, which is transmitted by the ball screw drive and guided by the precision linear rolling guide rail.

During the drilling process, the material is pressed in two directions. Above the material, the cylinder drives the pressing mechanism to press the material on the horizontal support roller, and the cylinder on the side drives the pressing mechanism to press the material from the side.

It is possible to convert CAD drawings into machining programs.

The machine can make reasonable arrangements for drilling holes, beam profile material's movement, tool change, spindle positioning, etc., so that two or three of them can be completed at the same time, greatly improving production efficiency.

The feeding trolley has good rigidity and stability, can automatically lift and lower according to the beam profile's specifications, and automatically clamps the material. The conveyor has option for either ordinary type or high precision type.

Technical Parameters
| | | | | |
| --- | --- | --- | --- | --- |
| Machine Model | TSDH400/3 | TSDH700/3 | TSDH1000/3 | TSDH1250/3 |
| H Beam Profile's Width Range | 100~400mm | 100~700mm | 100~1000mm | 100~1250mm |
| H Beam Profile's Height Range | 100~400mm | 100~400mm | 100~500mm | 100~600mm |
| Drilling Spindles Number | 3 | 3 | 3 | 3 |
| Spindle Type | BT40 | BT40 or BT50 | BT40 or BT50 | BT40 or BT50 |
| Spindle Motor Power | 11KW | 11KW or 30KW | 11KW or 30KW | 11KW or 30KW |
| Spindle RPM | 100~3000r/min | 100~3000r/min | 100~3000r/min | 100~3000r/min |
| Drilling Holes Diameter Range | Φ6-Φ30mm | Φ6-Φ30mm or Φ10-Φ60mm | Φ6-Φ30mm or Φ10-Φ60mm | Φ6-Φ30mm or Φ10-Φ60mm |
| X-axis Maximum Movement Speed | 40m/min | 20m/min | 20m/min | 20m/min |
| Positioning Axis Maximum Movement Speed | 10m/min | 10m/min | 10m/min | 10m/min |
| Feeding Axis Maximum Movement Speed | 10m/min | 10m/min | 10m/min | 10m/min |
| Tool Magazine Numbers | 3 sets | 3 sets | 3 sets | 3 sets |
| Tool Magazine Type | Row Type | Row Type | Row Type | Row Type |
| Tool Numbers | 12 pcs(4 x 3) | 12 pcs(4 x 3) | 12 pcs(4 x 3) | 12 pcs(4 x 3) |
| Machine Overall Size(Length x Width) | 32mx5m | 33mx5.5m | 33mx5.5m | 33mx6.0m |
| Total Power | 53KW | 55KW or 111KW | 55KW or 111KW | 55KW or 111KW |
Certificates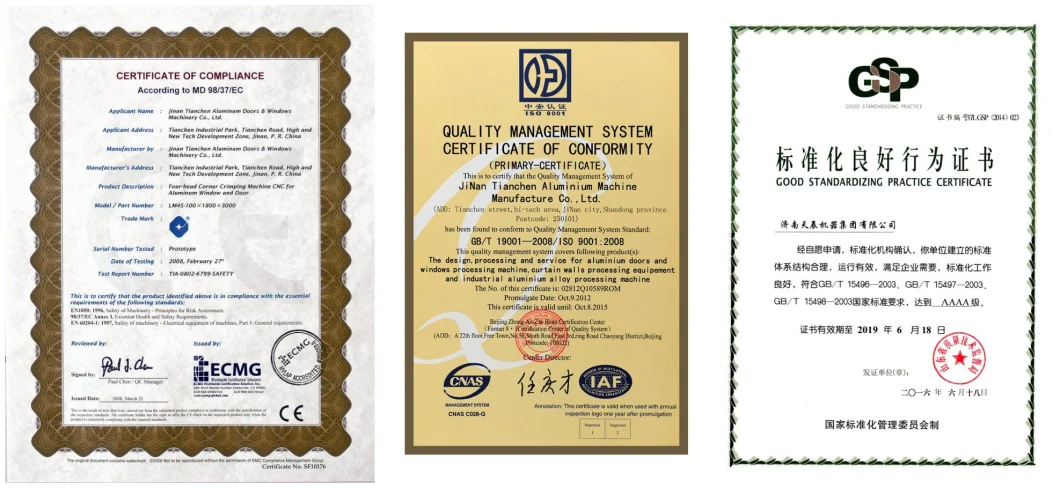 Service and Warranty
1.24hr online customer service
2. Offering customized service and OEM service
3. Engineers available to service machinery overseas
4. 12 months warranty for whole machine, excepting the wearing parts.
Packing and Shipping
Packaging: Clean and lubricate the machine and necessary parts before delivery; carefully packed them with protective film, and stably fixed in the container.
Shipping: sea transportation, air transportation

Company Profile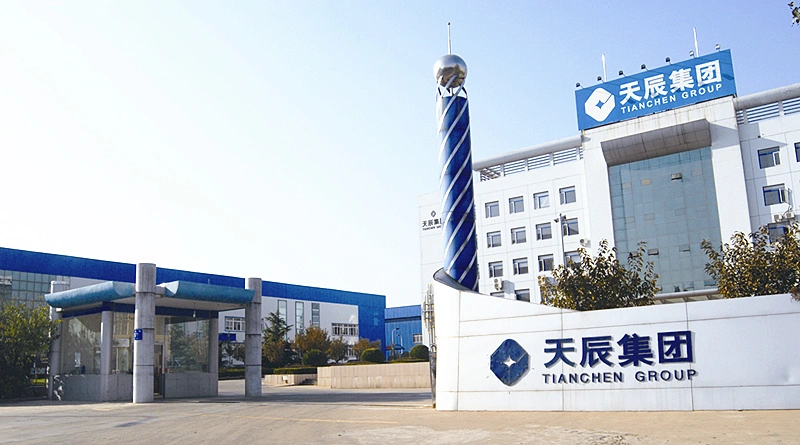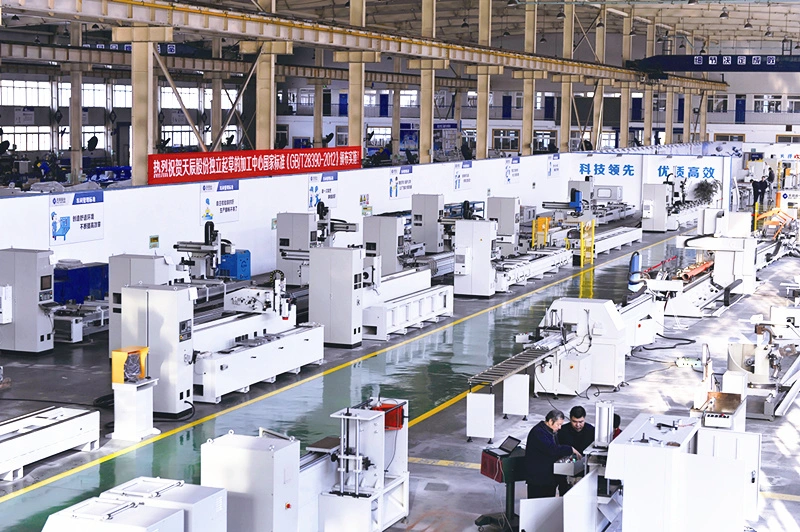 Jinan Tianchen Aluminum Machine Corp., Ltd is the first listed company in China for door and window curtain wall equipment, and it is a holding subsidiary of Jinan Tianchen Machinery Group, a well-known enterprise in Shandong Province. The company focuses on the research and development and manufacture of aluminum door and window curtain wall and industrial aluminum deep processing equipment. It is a comprehensive high-tech enterprise integrating scientific research, production, sales, testing and service. Tianchen Aluminum Machine has developed into a professional manufacturer of aluminum door and window curtain wall industry with the most complete varieties, the largest production and sales volume, and the largest number of service outlets in China. The products include aluminum door and window curtain wall processing equipment, aluminum formwork production line and industrial aluminum deep processing equipment for rail transit and automobile lightweight industry.
As a world renowned Chinese brand, Tianchen has created a team of responsible, dedicated and dedicated professionals in technology, marketing and after-sales. With professional ability and service spirit, we provide customers with stable and technologically advanced processing equipment based on industry needs.
The people oriented design concept, strict mechanical processing technology and perfect quality assurance system have created the outstanding quality of Tianchen. Tianchen has the most powerful parts processing and manufacturing capabilities in the industry. It has introduced dozens of large-scale processing equipment, CNC machining centers, laser interferometers, ball-bars and other high-precision testing equipment. Tianchen Company adheres to the model of independent innovation and lean manufacturing, continuously improves the level of R&D and manufacturing, and has won the unanimous approval from the market and customers. At present, Tianchen has provided machines to more than 7,000 aluminum door and window manufacturers and more than 100 aluminum curtain wall manufacturers in China, with a domestic market share of over 40% (more than 70% in some major markets) and over 60% of the top 100 companies in China's building curtain wall industry have become loyal users of Tianchen, and has been exported to more than 60 countries and regions such as the United States, Russia, South Korea, Singapore, Thailand, Vietnam, the Philippines, Australia, the United Arab Emirates, South Africa, France, Greece, Italy, India and etc, and enjoys world wide reputation.
"Doing new, doing well", Tianchen closely follows the development trend of domestic and foreign door and window curtain number of patents fill the gap in the industry. In the future, Tianchen will adhere to innovation-driven development, help transform old and new kinetic energy, and promote industry progress!
Never forget the original heart, practice the spirit of artisans; work hard to create a national brand!
Exhibitions and Factory Inspection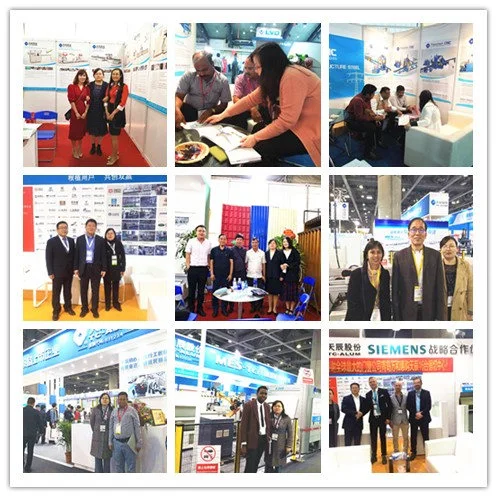 FAQ
Which machine should I choose?
A: Tell us your specific requirements for the machine; we will give you perfect suggestions and solutions.
How to use the machine, what should I do if problems occurred to the machine?
A: You can refer to the user's manual or instructions delivered along with the machine; if anything unclear, please feel free to contact us. We will support you by email, telephone or instant messengers. If still have difficulties, we offer oversea installation, maintaining and training service.
Which payment method do you accept?
A: We accept T/T, L/C and etc.
What is the delivery time?
A: The delivery time differs depend on the machine model and the order quantity. Usually the delivery time shall be 15-40 working days after deposit.