High Precision CNC Turning Machine(Ck6150 Ck6160) Flat Bed Turning CNC Lathe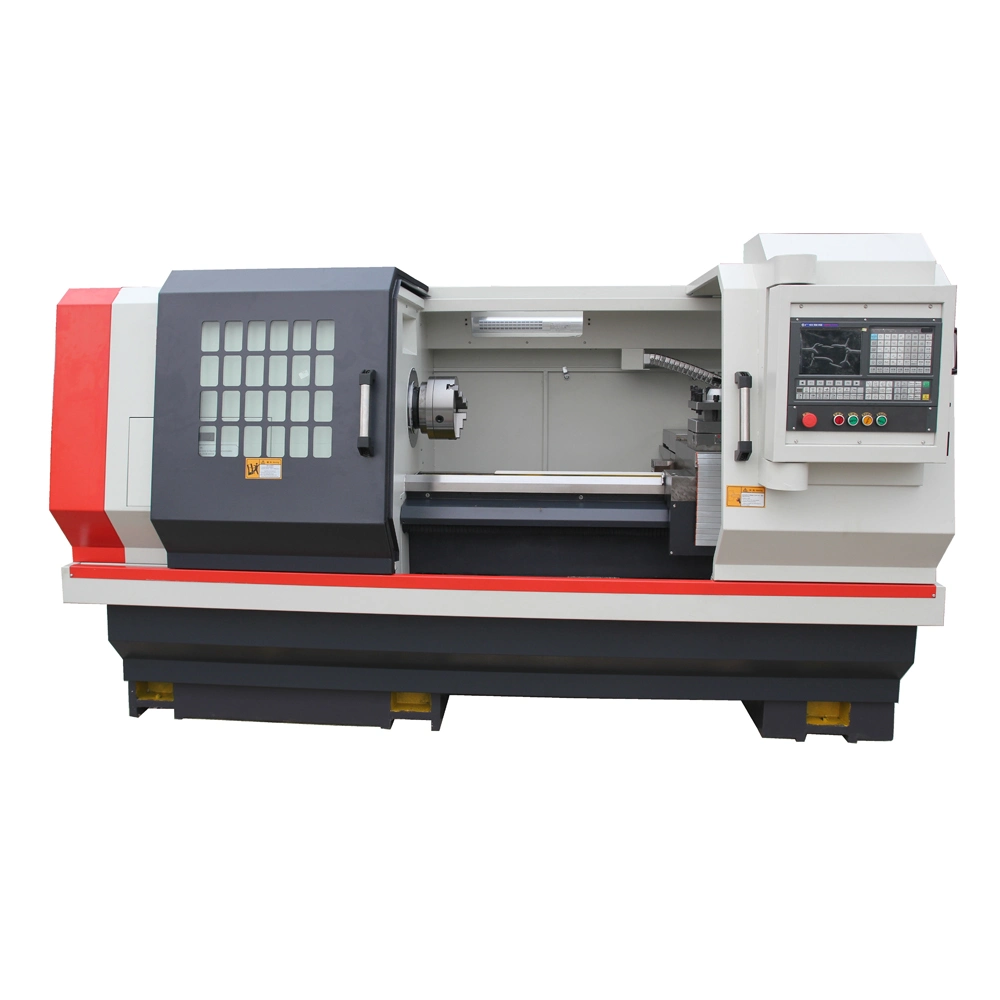 Feature:
It can automatically process the inside and outside cylinder surface, cone surface, circle arc surface,end face. It can also turn the single and multiple threads in metric , inch and other standard.
1.
high rigidity pedestal and wider lay board are suitable for heavy cutting
2.
four station electric turret
3.frequency conversion stepless speed regulation
Technical Parameter :
| | | |
| --- | --- | --- |
| Model | CK6150 | CK6160 |
| Max. swing over bed | Φ500mm | 600mm |
| Max. swing over cross slide | Φ250mm | 395mm |
| Max. processing length | 850/1500mm | 850/1500mm |
| Spindle bore | Φ82mm | 82mm (130mm optional) |
| Max. diameter of the bar | 65mm | 65mm |
| Spindle speed | 1800 rpm | 80-1600rpm |
| Spindle nose | A2-8 (A2-11 optional ) | A2-8 (A2-11 optional ) |
| Work piece clamping way | 250mm manual chuck | 250mm manual chuck (380 mm chuck optional) |
| Spindle motor power | 7.5kw | 11kw |
| X/Z axis position accuracy | 0.006mm | 0.006mm |
| X/Z axis repeatability | 0.005mm | 0.005mm |
| X/Z axis motor torque | 5./7.5 N.m (7/10N.m optional) | 5./7.5 N.m (7/10N.m optional) |
| X/Z axis motor power | 1.3/1.88kw | 1.88/2.5kw |
| X/Z axis rapid feeding speed | 8/10 m/min | 8/10 m/min |
| Tool post type | 4-station electric turret | 4-station electric turret |
| Tool bar section | 25*25mm | 25*25mm |
| Tailstock sleeve dia. | Φ75mm | 75mm |
| Tailstock sleeve travel | 200mm | 200mm |
| Tailstock taper | MT5# | MT5# |
| N.W. | 2850/3850kg | 3150/4150kg |
| Machine dimension (L*W*H) | 2950/3600*1520*1750mm | 3000/3610*1520*1750mm |
Standard Accessories:
| | |
| --- | --- |
| GSK980TDC or Siemens 808D NC system | manual tailstock |
| inverter motor 7.5kw | integrated automatic lubrication system |
| 4 station electric turret | coolant system |
| 250 mm manual chuck | lighten system |
Optional Accessories:
| | |
| --- | --- |
| Fanuc 0I mate TD or KND1000Ti | 10″Non-through hole hydraulic chuck (Taiwan) |
| servo motor 7.5/11 kw | 10″through hole hydraulic chuck(Taiwan) |
| inverter motor 11 kw | steady rest |
| 6 station or 8 station electric turret | follow rest |
| 10″Non-through hole hydraulic chuck | ZF gear box |
| 10″through hole hydraulic chuck | |