EZ CNC Router MD 103-ATC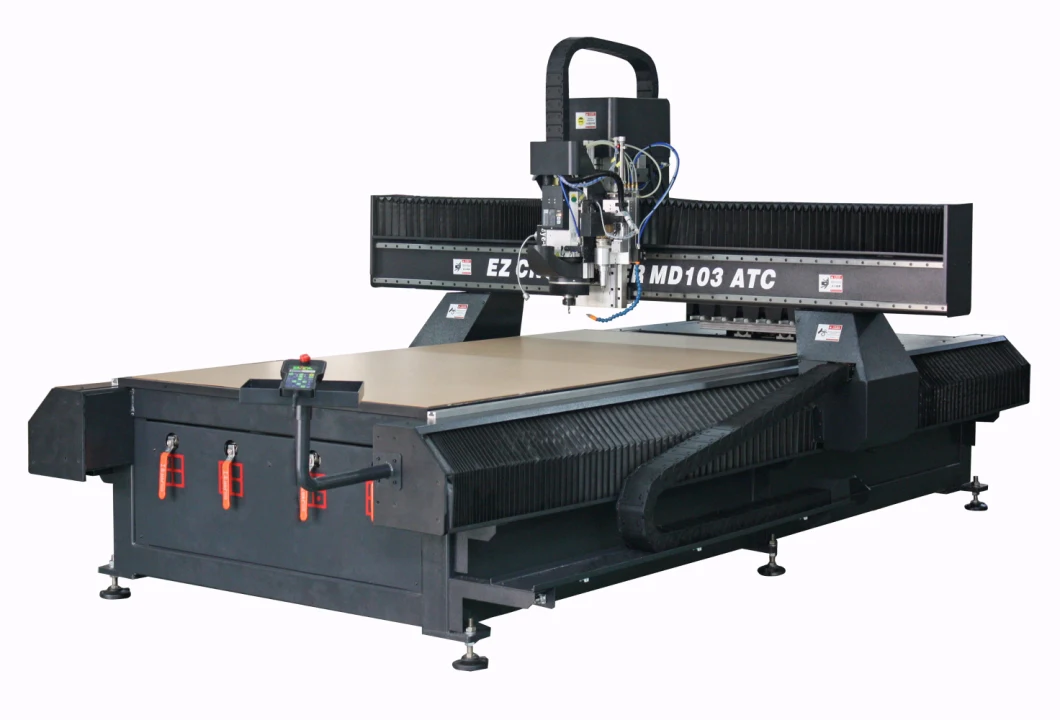 INTRODUCTION


1. Overview
Innovation Dual ball screw with driven nut
EZ CNC Router MD 103-ATC is a kind of portable and high-quality dual ball screw Router. Three axes was adopted ball screw driving, imported servo systems, automation tools changer and calibrating. There is Weihong controlling system with it which is easy to use. The whole machine is professional-looking fashion, stable performance, and perfect cutting quality, leading the professional fashion trend of CNC routers.
2.About EZ Innovation Dual Ball Screw with driven nut
Ball screw is a product which could convert the rotary motion into a linear motion or a linear motion into a rotary motion. The ball screw is widely used in industrial equipment and precision instruments. Because the three axes adopted precise ball screw and linear guides construction, when the ball screw is working, that will perform some advantage such as Wear small, high transmission efficiency, smooth transmission, long life, high precision, low temperature rising. MD Series can make precision of machine less than 0.01 and speed up to 30m/s.
3. EZ CNC Router MD 103-ATC configured with top specification
HSD 3HP Spindle
Power: 380V/9kW
Spindle Speed: 24000rpm
Air cooled
Advantage:
1. Adopting high speed chunk and nut with working stability, high speed.
2. Passing strict dynamic balance, and satisfy requirements of high speed
3. It contained the function of automatic tools changer
4. Driving System
MD Series Gantry machining center adopted dual ball screw technology, it would largely enhance seismic resistance, reduce the vibration ten times. Adjusting dynamic characteristic, the acceleration of 3 axes will be increased to 1g. According to adopt innovation dual ball screw, the gantry and the spindle will be keeping balance when the machine is working. It is a great way to enhance stability, precision, speed.
5. Automation tools changer
Normally, MD Series choose linear automatic tool changer and it can contain six kinds of knife. It can change the knife automatically when it obtained orders, convenient and quick, even focus in some complicate situations. The ATC would save much time in tools changing. Then, we add dust cap on the equipment, dust will be isolated to the knife, and the durability of knife will be expanded. Considering some situation of tools collision, this equipment was installed a reliable air collision avoidance system.
6. Controller System
Weihong Ncstudio system was a self-developed with its own intellectual property right in domestic in Shanghai, China. The system directly supported Art CAM, AUTOCAD, CorelDraw and other CAD / CAM software which had generated G code, PLT code format and engraving documents in the ENG code format.
Base on Windows operation, it could full play 32-bit computing and multi-tasking a strong advantage. In the meantime, the standard Windows-style user interface has the advantages of simple, reliable, easy to learn.
The CNC system include a manual, step, automatic and back to the mechanical origin function, simulation, dynamic display tracking, Z-axis automatic knife, program jump execution and rotary axis processing and other unique features.
This system could be used in kinds of 3D engraving machines and milling machines. And it is applicable to all kinds of complex mold processing, advertising decoration, cutting and other industries.
7. Vacuum System
Vacuum system can sucks materials on the table surface, comparing to the traditional manual clamping, it will improve production efficiency. The material is adsorbed on operation table, the middle of the material will not appear shifting. At the meanwhile, each partition can be a separate control, the seal was made from special materials with waterproof and oil Features.
8. Automatic Tool Sensor
Auto calibrate tool sensor, it can write all tool parameters into the system through automatically calibrate and save much time comparing with traditional manual calibration. For presetting the tool length with an accuracy of 0,01mm.
9. Mist System
There is a mist system in MW Series, we can spray oil or air through adjusting valve, this is a great way to lubricate our knives and expand Durability.
10.Software
MD Series can work through some software which will output G code, for example : Wentai engraving software, Jingdiao engraving software, Type3, ArtCAM, AlphaCAM, AutoCAD, Cimatron, MasterCAM, Enrouter. According to the customers requirement, we also can support V-Carve Pro software service.
SPECIFICATION
Model
MD1313
MD1325
MD1530
Size(m*m)
1.27*1.27
1.3*2.5
1.5*3.0
X-dual ballscrew
√
Servo
√
Axis
4
Z clearnce
150mm
Vacuum zone
2
4
4
Spindle Power(KW)
HSD9.0ATC/Water cooling5.0ATC
Spindle speed
24000rpm
Collect
ISO30 ER32/BT30
Auto surface
√
Gantry Axis
√
Speed(X,Y Axis)
30m/min
Speed(Z Axis)
15m/min
Weight(Ton)
1.3
1.8
2.3
PERFECT SAMPLES