Automatic 9 motor vertical glass beveling edging machine with CE standard
Product Description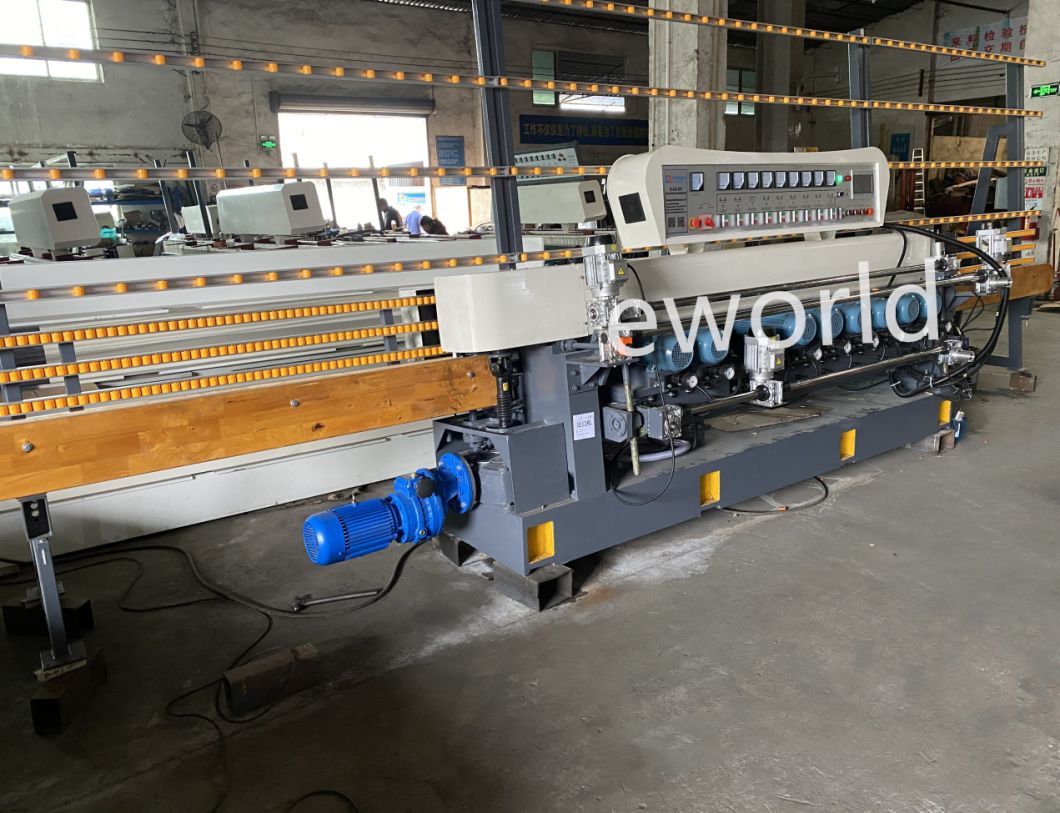 1.Brief introduction:
It is used to grinding of flat glass's bevel and bottom edge in bulk,combining bevel edge's coarse grinding,fine grinding and polishing with bottom edge's grinding at one time.Swing frame structures are forward and bakward in synchronization.The clamp plate and middle splint are refined with 40r materials,so their wear ability can reach an incalculable limitation.In addtion, the motors for grinding heads adopt international famous brands.Overall, this is a practical beveling machine made up of good-quality components.
1.1 Adopts the design of 2-wheel grinding, 3-wheel accurate grinding, 3-wheel polishing and 1-wheel hemline repair.
1.2 CVT adjusts the processing speed.
1.3 PLC controller if needed.
1.4 Input and output conveyors adopt timing belt to improve the stability of transmission.
1.5 The finished edge will be as bright and clear as the glass itself.
1.6 Easy to operate and maintain.
1.7 All items have got CE approved, and are strictly according to CE standard.
2.Features and function:
2.1.Single chip control system
2.2.9 wheels, 1 felt polishing wheel, with cerium oxide, pneumatic polishing assistant.
2.3.Glass thickness, angle adjustment adjusted on control panel
2.4.High speed inducing motor. Speed 2480rppm/min.
2.5.Conveyor chain
2.6.Stainless steel water tank
2.7.Aluminum or steel glass support for option
3.Main Techincal Parameter:
Quantity of motors: 9 sets
Minimum grinding size: 25 mm ×25mm
Thickness of the processed glass: 4mm - 12mm
Grinding speed: 0.7 - 3.5m/min
Bevel degree: 0-40°
Bevelig width: 1.5mm-40mm
Power: 21.5kw
External dimension(L×W×H): 7.5×1.5m×2.25m
Weight:3500 kg
Voltage: 380V/50 Hz
Pack size :3.8m×1.2m×*1.5m
Eworld Machine produce high quality machines, also pay attention to package. The machines will be packed with steel pallet and standard export wooden case, to make sure customer will receive the machines they ordered Intact.
1.Our Goal
Eword strives to find a balance between quality and price, so that customers can buy the best machine and we can win-win.Eworld Machine provides full set services and high-quality but low-price products.We are always looking for long term cooperaion, not one time deal.
2.Pre-sale
Eworld provides 24 hours high-quality service.When clients contact Eworld and ask for products,E-World answers at once,except our clerks sleep,which condition we answer within 10hours.Eworld understand how important it is for the customers to choose a suitable machine ,we are ready to come up with a best solution for customers.
3.On-sale
For all you requests,we will supply the best solution to you as soon as possible.If you have any inquiry or problems,please contact us with E-mail ,skype,alibaba,whatsapp,phone,etc.
Eworld welcome customers to visit the factory,we will pick you up from airport or train station.Eworld location is convenient to welcome clients because of next to train station.
4.After-sale service
When customers buy the glass edging machine ,E-World promises that the machine will be delivered in 20-25 days after deposit.
E-World arranges commodity's packages suitable for shipment of sea.
E-World provides English instruction about manual guide and video technical support.Any problems please let we know,and we will give detailed support and advice.
E-World promises worry-free repair of one whole year after installation, the original fault parts
damaged, be free of anycharges.When the serious breakdown and big fault happens,E-World has engineers and they can fly to there to solve it.